You are currently browsing Sara's articles.
Day 2 of the Q&A Challenge on Facebook Live. Today I discuss the anatomy and alignment of the upper body in Adho Mukha Svanasana (Downward Facing Dog). The muscles referenced in my discussion are:
Serratus anterior
Latissimus dorsi
Teres major
Working the fundamentals of Down dog can help develop a foundation for arm balances, headstand, and even open the shoulder girdle for backbends. All the advanced poses are built in the basics.

I've been challenged to do 30 questions in 30 days on Facebook Live. For those who aren't on Facebook, I'll be posting them here as well. I hope you enjoy this series. It definitely puts me outside my comfort zone, so I thought I'd start this series discussing that topic.
If you have questions and/or comments, please feel free to leave them in the comments. And I'll eventually get to answering them on these videos – you never know when someone has the same question as you.
"I'm bundled up and you look like you're headed to the beach." ~Michael Gannon
I intentionally waited until some time had passed before writing a blog about my time with the Gannon.. I wanted the euphoric Gannon-glow to subside after so much yoga, so I could process and distinguish between that which was yoga bliss-induced and that which was truth. So here ya go..down the rabbit hole slowly, slowly through the Possum Kingdom – otherwise known as my week with Michael Gannon.
I had the luxury of hosting Michael Gannon at CBY, as well as in my home. It was his first time in Texas (aside from airport connections)..so I made sure he could experience some Texas, as our yoga community experienced some Gannon. And in true Houston style, the airport is never an easy venture. I drive through passenger pick-up, and just as I spot him on the commercial car side..they wave me through, so I have to make the rounds.. so I try to pull into the commercial car lane and they make me back up and go through regular car lane — good thing Susie, the Mini Cooper, can maneuver in spectacular fashion.. So I pull up, hop out of the car to grab him..and I hear a whistle from across the way. Micheal is already at Susie, and I'm right outside baggage claim. If it wasn't real life, it would be sketch comedy. 🙂
He led some amazing workshops, which was expected..but I have to admit that I had heard horror stories of "the Gannon" that put me on guard with what to actually expect as a guest in my home. Not to fear, my home brought forth feelings of cozy, childhood nostalgia – not in a weird, floral sofa and plastic flowers way..but a sense of pleasant comfort and welcoming memories. Though there were definitely brief moments of me thinking "um, really?" *sigh*, there was always an underlying kindness and compassion that you can feel in his adjustments, in his tone when he's teaching, or in his presence when we were just chillin. He's certainly no worse than I've been at times in my life. It would not be untrue that parts of me even identified with his particular, so-called "diva" nature… but the infamous "diva" rarely made an appearance this trip (at least there was nothing that seemed out of the ordinary or unreasonable.. outside of phrasing things in certain ways that could've been phrased in other ways.. but again, as a person who has particular tendencies myself..there was nothing I couldn't accept with more than a *sigh* or a thought of "oh good..I'm not the only one"). Sometimes people cultivate a reputation because of things we've done in the past..but if yoga teaches us nothing, it teaches us that lives change, people change, everything changes. Who we were a year or 10 years ago isn't always the person we are today..or the person we'll be tomorrow. He's definitely an energy I can be at peace around.
"Just the place for a Snark! I have said it twice:
That alone should encourage the crew." ~Lewis Carroll
"slowly, slowly goes the practice" ~Michael Gannon
What is he like to practice with? I think everyone perceives a practice slightly different, as we are all different.. and no matter that it's a single instructor, leading a single class, it's a different class for everyone present. For me.. as we were working deep into locust (with arms overhead) during the back bending session, I hear a distant "oh, that's fu*king hard" coming from the direction of his mat. His strong (not aggressive) adjustments, such as pressing my feet down in Setu Bandhasana (full bridge), or gently tapping my shin coaxing my forehead forward in Ardha Baddha Padmottanasana (standing half-lotus), are not to be taken lightly. And during the hip opening practice he asks, "who's loving this?" — nobody but me pipes up and he says "I knew it, you've got this smile that says 'I could stay here all day.' Who does that annoy?" to an uproar of laughter. Perhaps that doesn't speak to what he's like to practice with for everyone..but those are just a small selection of the bits I'll keep with me. A wonderfully pleasant experience all around!
As we traveled deeper down the rabbit hole, along the Texas highways around Houston to gangsta rap, Paul Simon, and the Beatles..one song remained ever present at the top of his request list. I give you, The Toadies.. Possum Kingdom.
I'll have fond memories of his declaration for karaoke in the Mini after heading out for a "long neck" at a Texas dive bar, picking up pizza at midnight, his new found love for Liz Lovely cookies, having Mocha talk on Skype with Ikal, and the Toadies on repeat..repeat..repeat. I can hardly wait for his return in the future — for more amazing yoga, random laughter, lazy afternoons, emancipated avians and hobbitses.
So, from the Frosting Cottage – as Michael would say – Shanti Out!
//
The Yoga Dealer is coming to CBY!!
Tuesday Jan 31 – Thursday Feb 2, 2012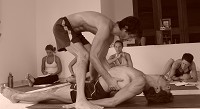 Sunday Sept 25 2011
9:00-11:30am
Join Cherry Blossom Yoga for a playful morning of aerial and therapeutic flying, partner assisted stretching and Thai-inspired massage.
**No partner necessary!**

**Open to all-levels!**
Registration Information:
contact – Sara Turk
Cherry Blossom Yoga
281.257.4245
cherryblossom.yoga@gmail.com
http://www.cherryblossomyoga.com/
http://clients.mindbodyonline.com/ws.asp?studioid=9866&stype=-8&sTG=23&sVT=26&sView=day
$45 (save $10 if purchased before Sept 10)
ABOUT MELISSA:
Melissa began teaching Group Fitness 20 years ago while attending Texas A&M. She's lived and traveled all over the US and most recently lived abroad in Malaysia. Melissa's first 350 hours are from Inspyrayoga in Kuala Lumpur, Malaysia in 2005 where Melissa specialized in pre/post natal for over 3 years. Moving back to the US, Melissa obtained her 500 RYT and blogs about her experiences as a student and teacher. She currently leads teacher trainings for Leeann Carey Yoga (200 and 300 hour), specializing Partner Practice.
September is National Yoga Month
CBY will be participating with FREE classes for ALL and a FREE WEEK of UNLIMITED YOGA for New Students.
To get your ONE WEEK FREE CARD, click here.
For current students – those who have been to a class at CBY anytime in the past – we are opening up a selection of classes that will be FREE to ALL as a way of saying thank you to our kula of students who make CBY the beautiful and energetic space that it is today! The following classes are FREE to ANYONE!
Sept 3, Saturday: 10:45-11:45am
Restorative

with Laura Lima
Sept 4, Sunday: 12:30-1:45pm

Sadhana Yoga Chi

with Sara Turk
Sept 5, Monday: 5:45-7pm

Vinyasa

with Sara Turk
Sept 8, Thursday: 6-7AM

Hatha Flow

with Jennifer Mohr
Sept 17, Saturday: 9-10:30am

Ashtanga

with Claire Wilson
Sept 22, Thursday: 6-7AM

Hatha Flow

with Jennifer Mohr

"A state of mind is always temporary." ~Jack Kornfield
A huge part of yoga is the practice of letting go. Something I've been contemplating quite a bit lately is the letting go of judgment. The past two weeks, I've noticed much more anger, frustration, and judgment have welled up within.. and I didn't know why. Recently, I had a visiting friend who I don't see all that often..and I was Grumpy Grumps-A-Lot. And it made me feel badly that I couldn't be not-grumpy – and faking cheerful giddy is for high school cheerleaders, something I've moved beyond. At first it was hard to recognize. Well, at least the reasons why were hard to recognize. I hadn't felt like that in years, and I felt like I was losing my mind. Turns out it was due to a hormonal imbalance, but that's beside the point. Practicing yoga teaches us to recognize the emotions that rise up in order to observe the root causes without judgment, so that they may pass. So just saying "oh it was all hormonal," in my mind, is a cop-out for an opportunity to grow. Sure, perhaps my hormones did make me a little "get-bent", but what caused the insanity was not the anger and frustration that manifested, it was my self-judgment of "why is this happening? why am I going crazy? why can't I just let it go? WTF?" I noticed I was expressing my anger in my teaching – though my students may not have known it at the time.. I mean, it's Ashtanga.. the Primary series is what it is. I was never aggressive with my adjustments, I just noticed myself being overly cautious to adjust in a hands-on manner because I didn't want to physically express my frustration upon another person. So in that regard, my students might have sensed a pulling away from my usual hands-on approach.
Clarity is a funny thing. I discovered the root cause to the hormonal imbalance and rectified it. But it took a few more days to realize some other underlying causes to the wells of anger, frustration, and judgment. Of course, meditating on these emotions helped clear the cobwebs so that I could see what lied beneath. Tuesday morning, I taught a very aggressive Primary series – to which all the students responded with "that was great!" and the like. And I appreciate that they had a wonderful experience, that my pushing them as I worked out underlying issues in myself opened windows of self-reflection. Of course, *enter another self-judgment* I begrudged myself for working out MY issues while teaching THEIR class. Teaching is a time to give everything to the student, not work on my own issues – that's what my practice is for. Perhaps a yoga class is catharsis on both sides – I always say I learn more from my students than they learn from me.
It wasn't until the evening Primary series that same day I had a window open up for myself. I took it a bit different since I only had a couple of students, and they are open to having me play with it a little. I didn't follow the exact layout of Pattabhi Jois *gasp*, but in that "rebellion from tradition" I discovered something beautiful. I threw in some Intermediate series poses in appropriate places, I held them in each pose a little longer and reduced the number of vinyasas, and instead of cueing alignment issues (since this pair is pretty spot on in their alignment), I discussed more the feelings of the posture – what does Uttitha Parsvokonasana feel like within you, and not on you..or what emotional whispers rise up as you work in opposite directions in Paschimottanasana or Marichyasana. Cues of that nature.. There was much laughter and experimentation when we tried some of the more challenging poses. It was a release I think we all needed. Then my Thursday morning Ashtanga, I taught in the same manner.. more self-reflective than alignment-based. The energy is the room was focused, inward. Whether they knew it or not, I feel that each one in the room touched a little Pratyahara. Again, all the students seemed to have an enlightening experience – no matter how fleeting. This is merely my perception of the events, and what is truly happening within them only they know.
So with the clarity of the underlying issues – beneath the physiological (hormonal imbalance) – I seemed to have rediscovered why I teach yoga and it re-inspired my desire to practice yoga (a whole blog post in itself on that one). Maybe because it had been so long that I needed to experience such a physiological insanity so that I could realize I was still self-judging on a subconscious level. My feeling badly because I felt grumpy is a judgment that needs to be released. Just let go and observe the grumpy. Sometimes people feel grumpy and it's okay.. even yoga teachers get grumpy, frustrated, angry. Yoga teachers are still students of yoga on the same path as our students we teach every day – it's our experiences and perceptions of the path that differ, but we're all walking side-by-side. Those who have moved beyond the path are enlightened and having tea with the Buddha..but us mere mortals area still working through the cobwebs.
~Namaste
Sharath Jois, the grandson to the lute Guruji, is leading a group of students in the Primary Series. I can only imagine the awesome feeling of being in his presence. I was never lucky enough to practice with Guruji before he passed, so a practice with Sharath (or Manju, Pattabhi's son and Sharath's father) would – in my mind – be equally as magical. Enjoy!
At the end, Sharath discusses the practice of Yamas and Niyamas during your asana. Watch it all the way through, wonderful!
Because I'm not cool enough to embed it (I've tried several different ways), you'll have to settle for a link:
http://livestre.am/Hds5
And I love that his shirt reads "Eat More Chapatis!" 🙂 Also note, though mats are corner to corner..the natural staggering of bodies when it comes to Utthita Hasta Padangushtasana.. you gotta love yogis who are used to close quarters. 😉
~Namaste~
I read an article this morning on elephantjournal.com entitled "Die and Live?" that spoke of life and death, plans for the author's (Roger Wolsey) funeral, living in the present moment, and it ended with a list of Roger's things he will miss about life when he dies. I've often contemplated my own death – ever since I can remember I've been intrigued by death and more specifically, the cessation of life. It's not that I have a death wish – though that's not to say that I never did, but that's a different blog post – but it's more a fascination with the mechanisms that we label as life (basic individual cellular metabolism- ATP, glucose-6-phosphate, ion channels, etc.; and then cell-cell signaling to make it work on a systemic scale)..and subsequently the cessation of those mechanisms which we label as death, followed by the decomposition of the physical organic matter we call our body. In addition to contemplating the physical aspect of death, I often 'plan' my funeral services – wishes I'd currently like to be fulfilled (and of course, these change over time as my views on life change).
But I digress.. back to the article in question. The point of it all is to identify those things in life which truly matter to you, what your priorities are, and how to appreciate the present moment – because truth be told, it's all we have. I love making lists, but I realized as often as I contemplate death and my dying, I never made a list of things which I'll miss about life. I found this to be a great exercise in gratitude, appreciation, and in the psychology of myself. Roger decided to make this list as part of his Lenten ritual..and while I don't partake of Lent, I think a once-a-year reevaluation of self and that which you appreciate is not a bad thing. Just as we turn a new leaf at New Year's, reflecting on the past.. perhaps we can reflect on our future inevitability to appreciate the present. So here is my first, and hopefully annual list, of things I will miss about life. I recommend you give it a try yourself. 🙂
**in no particular order**
Things I Will Miss About Life (2011)
*The vibrancy of the colors at the onset of spring just before the first blooming (the first release of pollen).
*The smell of toast, and fresh baked bread.
*Making a cup of tea.
*The first sip from a fresh cup/pot of tea.
*The first breath in Savasana – that initial release.
*The last few breaths in Savasana – the reawakening.
*The stillness at the moment just following the cessation of the OM before the next inhale is taken.
*Post-pranayama bliss.
*Supta Kurmasana.
*Laughter in surround sound created by a group of loved ones.
*A broken heart.
*A pain-filled cry because the ache in my heart is too intense to contain, and thereby becoming satisfying.
*Kissing the corner of the eyebrow on a lovers face.
*Being greeted by my dog upon arrival home with ecstatic joy (and returning that joy in kind).
*The smile on a dog – any dog.
*Baking for sharing.
*Thunderstorms in the afternoon.
*The ocean in all it's physical and metaphorical nature.
*The Mr.'s salsa.
*The smell of a freshly mowed lawn in the hot summertime.
*The sound of an antique mantle clock.
*Going weak in the knees (literally) from the intensity of a lovers kiss.
*Acoustic guitar.
*Having my hair washed lovingly by another.
*The melancholy, joy, sensuality, depression, excitement inspired by music.
*The under-rumble and half-wimpers of a dog dreaming.
*Dancing.
*Stilettos.
*The musky scent of a man (and by extension, the greasy smell of a man who has been working in the garage).
*The smell of whiskey on a man.
*The smell of Autumn when it begins.
*Sharing the perfect cup of tea with a best friend.
*The rare moments I realize I truly love myself, letting go of all my self-flagellation, self-loathing, self-expectations.
*The comfort of a dog resting their head on my ankles or waist.
I did notice a theme – friends, laughter, love, the in-between moments.. and that which stimulates the senses. The sounds of things, the sights, the tastes, the smells..and the subsequent emotions those senses inspire. In essence these are all things that inspire comfort and joy in my heart (yes, even the conventionally labeled 'sad' ones). Because what is living if you can't experience it in it's entirety..not just live it, but
experience
it.
~I wish you Experiential Living!