You are currently browsing the category archive for the 'Asana' category.
The Yoga Dealer is coming to CBY!!
Tuesday Jan 31 – Thursday Feb 2, 2012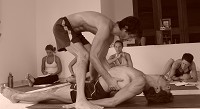 Sharath Jois, the grandson to the lute Guruji, is leading a group of students in the Primary Series. I can only imagine the awesome feeling of being in his presence. I was never lucky enough to practice with Guruji before he passed, so a practice with Sharath (or Manju, Pattabhi's son and Sharath's father) would – in my mind – be equally as magical. Enjoy!
At the end, Sharath discusses the practice of Yamas and Niyamas during your asana. Watch it all the way through, wonderful!
Because I'm not cool enough to embed it (I've tried several different ways), you'll have to settle for a link:
http://livestre.am/Hds5
And I love that his shirt reads "Eat More Chapatis!" 🙂 Also note, though mats are corner to corner..the natural staggering of bodies when it comes to Utthita Hasta Padangushtasana.. you gotta love yogis who are used to close quarters. 😉
~Namaste~
Two videos, 1 sequence.. you vote on which one you like better! There's no prize..just a way to interact with everyone. 🙂 The beautiful yogini, Jennifer Key, and I were playing around after class today, and one of our lovely students recorded this asana sequence. I set it to music post-production, and I think I have a favorite..but I'll let the public decide! 😉
Video #1
Visual Effect: Aged Film
Music: Middle Sex Times (Donnie Darko Soundtrack)

Video #2
Visual Effect: Bleach Bypass
Music: Liquid Spear Waltz (Donnie Darko Soundtrack)