You are currently browsing the category archive for the 'Events' category.
The Yoga Dealer is coming to CBY!!
Tuesday Jan 31 – Thursday Feb 2, 2012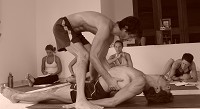 Sunday Sept 25 2011
9:00-11:30am
Join Cherry Blossom Yoga for a playful morning of aerial and therapeutic flying, partner assisted stretching and Thai-inspired massage.
**No partner necessary!**

**Open to all-levels!**
Registration Information:
contact – Sara Turk
Cherry Blossom Yoga
281.257.4245
cherryblossom.yoga@gmail.com
http://www.cherryblossomyoga.com/
http://clients.mindbodyonline.com/ws.asp?studioid=9866&stype=-8&sTG=23&sVT=26&sView=day
$45 (save $10 if purchased before Sept 10)
ABOUT MELISSA:
Melissa began teaching Group Fitness 20 years ago while attending Texas A&M. She's lived and traveled all over the US and most recently lived abroad in Malaysia. Melissa's first 350 hours are from Inspyrayoga in Kuala Lumpur, Malaysia in 2005 where Melissa specialized in pre/post natal for over 3 years. Moving back to the US, Melissa obtained her 500 RYT and blogs about her experiences as a student and teacher. She currently leads teacher trainings for Leeann Carey Yoga (200 and 300 hour), specializing Partner Practice.
September is National Yoga Month
CBY will be participating with FREE classes for ALL and a FREE WEEK of UNLIMITED YOGA for New Students.
To get your ONE WEEK FREE CARD, click here.
For current students – those who have been to a class at CBY anytime in the past – we are opening up a selection of classes that will be FREE to ALL as a way of saying thank you to our kula of students who make CBY the beautiful and energetic space that it is today! The following classes are FREE to ANYONE!
Sept 3, Saturday: 10:45-11:45am
Restorative

with Laura Lima
Sept 4, Sunday: 12:30-1:45pm

Sadhana Yoga Chi

with Sara Turk
Sept 5, Monday: 5:45-7pm

Vinyasa

with Sara Turk
Sept 8, Thursday: 6-7AM

Hatha Flow

with Jennifer Mohr
Sept 17, Saturday: 9-10:30am

Ashtanga

with Claire Wilson
Sept 22, Thursday: 6-7AM

Hatha Flow

with Jennifer Mohr